Five Visual Motifs In the Photographs of Ren Hang
On February 24th after suffering from a deep depression, Chinese photographer Ren Hang took his own life just weeks before his 30th birthday. Despite his young age, Hang leaves behind a large body of photographic work. Known for his "racy", erotic images, Hang's photographs visualized a provocative and constructed world that simultaneously referenced a uniquely Chinese aesthetic and contemporary youth culture.
When I look at Hang's work, I am less interested in his exposure of genitalia and the titillating effect of his images. As a photographer, I'm drawn to his storytelling techniques, specifically the aesthetic patterns that emerge when seeing the work as a whole. In memoriam I'd like to highlight five visual motifs that Hang repeatedly employed to thus create his signature style. 
The Color Red
Considered the most popular color in China as evident by the red field featured in the country's flag, Hang used this symbolic color in a variety of ways. In traditional Chinese culture, red is associated with celebration and creativity, good fortune and joy. In its most political meaning, red is associated with communism or socialism which in this case may relate to the form of government Hang was always in conflict with.

In Hang's images you'll often see red painted on the lips and/or nails of his female models and also as a backdrop color. Whether a face is immersed in crimson-colored bathwater, or as in this image where both model and snake are laying on red bedsheets, Hang uses the same blood-red shade to highlight an idea or frame his subjects.
Polycephaly
Popularized in literature by Greek mythological creatures, polycephaly is a condition of having more than one head that can also realistically occur in animals and humans. In several images, Hang has played with the concept of a double-headed being, focusing less on the condition itself and more on the idea of two that share a body. In other images, he's posed his models to resemble a multi-limbed being, an act that comes across as pure play, fitting bodies together in an exploration of the fantastical human form.

Hair
Sporting medium to long, black hair, Hang's female models uphold stereotypical and historical visions of Asian femininity. Draped over faces and limbs, jet black hair shines in the glare of Hang's almost-violent flash lighting. In the art of dream interpretation, hair is recognized as a symbol of sensuality, seduction and vanity – all descriptors commonly used to interpret Hang's work.  

Flora
Hang often staged his images in nature and in his studio shots, cut flowers and various types of exotic flora also appear, sometimes competing with the model(s) for the viewer's attention. In the above image, the cherry blossom tree obscures the model as its intricate branches and blossoms dominate the frame. A historical symbol of desire and sexuality, Hang has used various species of flora ranging from the innocuous tulip to the Anthurium with its sexy, patent-leather like red leaves and erect pistil.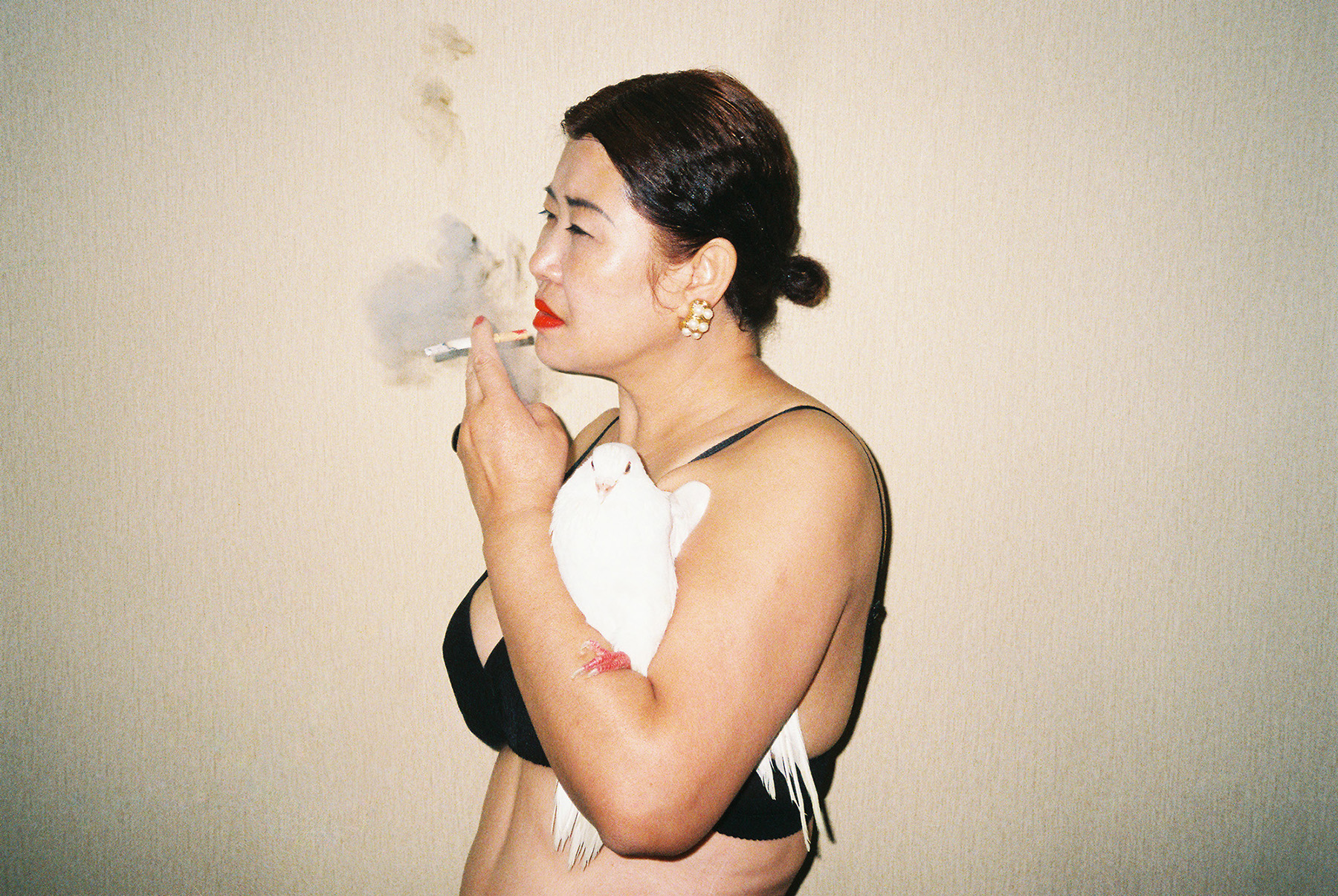 Birds
Lastly, one can't help but notice the winged creatures in Hang's images. Although domesticated animals (like reptiles and cats) mingle amongst naked bodies, the birds are limp, tamed, as if to be prepared for consumption. Not knowing for sure I insist they are dead or at least taxidermy, as I can't fathom any bird would cooperate in such foreign, artificial conditions. Hang's repeat use of birds seems obsessive. He even poses his own mother in the series My Mum with an excess of doves, ducks, peacocks and swans.
In his most complex compositions, Hang arranged several of these motifs together to make a single, confounding image. And though there are bodies, except in the case of his mother, there are no characters. Alive or not, Hang arranges his subjects like objects. It is because of this that I've come to appreciate Hang's work as still life photography. RIP Ren Hang.
---
Qiana Mestrich is a photographer, writer, digital marketer and mother from Brooklyn, NY. She is the founder of Dodge & Burn: Decolonizing Photography History, a blog that seeks to establish a more inclusive history of photography, highlighting contributions to the medium by and about people of underrepresented cultures.
Read her other guest posts on the Baxter St blog:
Photography and the Black Panther Party
The Black Female Self in Landscape
In Memoriam: John Berger and Uses of Photography Quotes
Forthcoming Photobooks by African American and Black African Photographers
New Image Library Specializes in Race and Cultural Diversity